Vendors: Stop Spending on Wedding Sites & Publication Advertising!
If you're in the event industry like me, you've probably tried all kinds of advertising, listings, event & bridal shows, ad-words, and more, in the hopes of garnering more business.
Let's get real:  few, if any of us is getting rich in this industry, but we do it because we enjoy it, feel creative, love spreading fun & happiness, enjoy being our own boss, or are fundamentally unqualified for anything else.
Regardless, most are great professionals that want the world know about us.  The question is, "How do I do that?"   We may have friends, family & associates that may refer us, but what about the rest of the world?
Some event entrepreneurs turn to sites or publications like The Knot, Wedding Wire, Wedding Magazines to advertise at exorbitant fees & commitments to EACH for several hundred dollars monthly.  That bill may be similar to a mortgage in most metro areas in the United States.  You should SERIOUSLY consider your ROI  & stop throwing money out the window!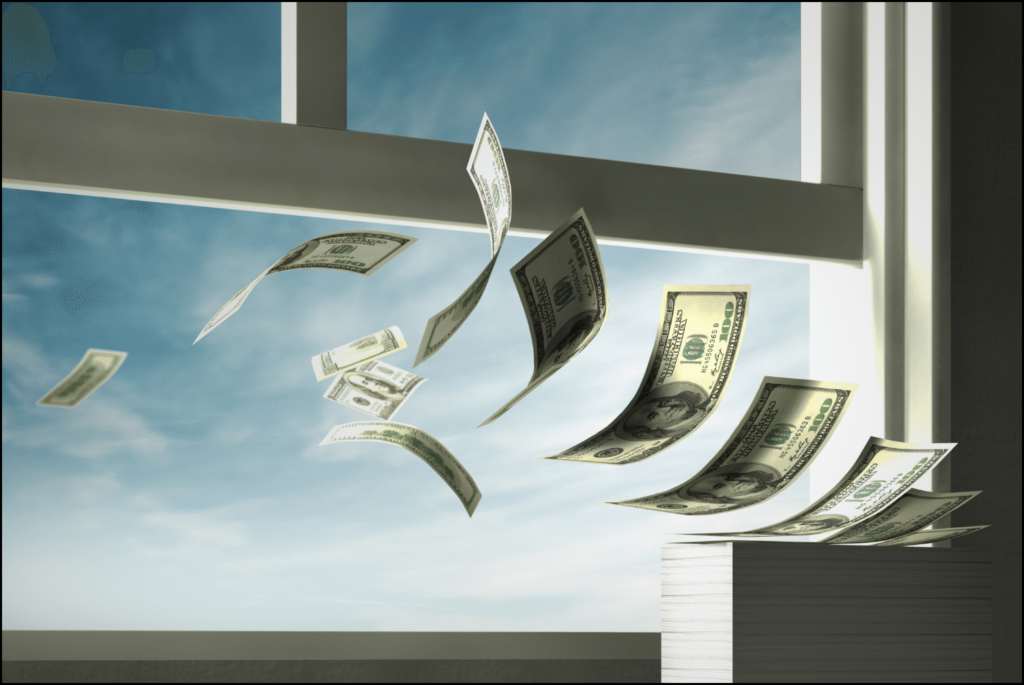 (Pictured Above: Your Money. Copyright 2017)
What is ROI?  It is known in sales/business as RETURN ON INVESTMENT.
I asked a my good friend Richard Goldman, owner of RKG Photography & successful lifetime entrepreneur his advice:
"For every dollar I spend, I should get 4 more back.  For example, if I spend $1000 on advertising, I'd better get $5,000 back otherwise, it ain't worth it."
For the record, Rich had his first retirement at 45 & then created two more successful businesses in "retirement." He now runs his 3rd post retirement business & since just 2012 he's become owner of one of South Florida's busiest event photography companies.
"I sit poolside or play golf for only a short time before I get bored.  I enjoyed amateur photography for decades & I asked my wife, Linda, if she minded if I turned my hobby into a business. She was very supportive, and now I get so many calls I'm actually turning away some business."
(Above: Photo #1 Rich & Linda, lovely couple.  Photo #2 DJ Buddy & Rich hamming it up.  Not so lovely.)
Now that's a guy I listen to.  Rich continued.
"I could be the biggest, but I'm supposed to be retired, and I have to be home sometimes.  I enjoy this & I like to give people a great product at a great price." 
While I am aware that Wedding Wire & The Knot are a great resource for reviews, reputation, and community standing it is NOT a good place to spend your advertising dollar as you're there with hundreds of your competitors clamoring for the same client.
A typical couple that searches the net will find you via Google or similar & THEN check your online reviews.
If you search for my company terms like "DJ in Palm Beach" "DJ in Boca Raton" "Wedding DJ in Palm Beach County" etc. you'll see that Let's Party! pretty much comes up first & front page.
This is the result of a long time, long term strategy developed by me & my wife, Katrina, of Click-Kat Web & Marketing through years of trial, error, and constant education on internet trends & marketing.
Do we spend money doing this?  Yes. But not nearly as much as we once did on the wedding portal sites & magazines.
By the way, if you're interested, and not a DJ company, & someone that may want to partner up to some degree,  we can help in your marketing strategy.  We can likely do this for far less than you're spending now.  Feel free to get in touch.
If you're a client, or a potential client, please DO check out our reviews on Wedding Wire, The Knot, & Yelp.  You'll see that we have a great reputation.
But chances are you found me right here.  Thanks for checking in & I hope to hear from you.